"When you found a company, you start a marathon in which you put your heart and soul into finding fun and fulfilment" – INTERVIEW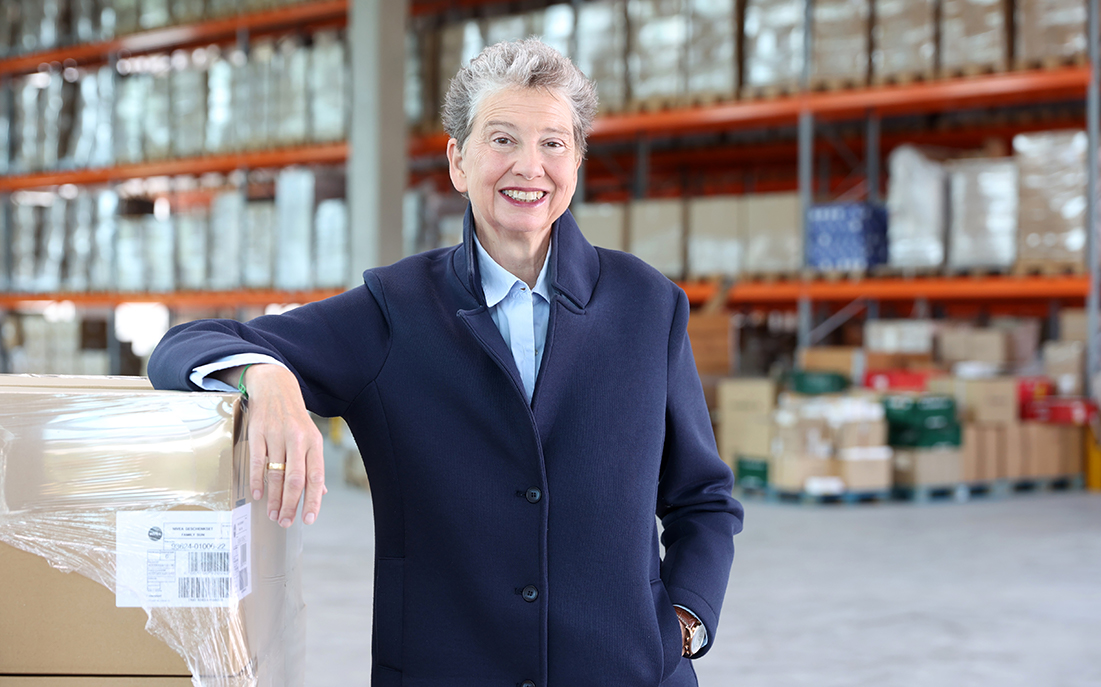 Every year, enormous quantities of brand-new goods are thrown away for no good reason. Juliane Kronen's organization innatura passes on these products to charitable organizations as in-kind donations.
Brand new and yet ripe for the garbage can? Every year, enormous quantities of brand-new products and goods end up directly in the trash. The reasons are often quite banal. The design has been changed, the label is faulty or simply too much has been produced. Dr. Juliane Kronen wants to change this: Her organization innatura brokers the products that would otherwise be disposed of by companies to social organizations. In the interview, you can find out how 200,000 bottles of shampoo got the business idea rolling.
What problem do you solve with innatura? Why exactly does it need your solution?
innatura links companies that want to donate factory-new products that are no longer suitable for the market with non-profit organisations that need these products for their own operations or to provide for the people entrusted to their care. So we address the issues of abundance and social participation while creating ecological and economic benefits.
What did you do before you started the current project/company?
Before founding innatura, I worked for 16 years at the Boston Consulting Group, most recently as a partner, with a focus on dovetailing IT and corporate strategy. At home we had a medium-sized transport company – my experience there is just as valuable for innatura as my consulting time.
What or who motivated you to become a social entrepreneur?

In 2009, an acquaintance called me: "You also work with charitable organisations, right? We have 200,000 bottles of mislabelled shampoo, we'll be happy to donate it if it's off the yard tomorrow and you guarantee it won't end up on the black market." No organisation wanted two trucks of shampoo, we looked at BCG for a solution, and we discovered In Kind Direct in the UK. I couldn't just ignore the problem and the solution, so I "jumped".
Which of your successes do you remember most?

As a German member of the In Kind Direct International Network, we were able to launch directly with the former Prince of Wales as our patron – and he still is today. We signed our first donor contract in 2013 with Beiersdorf, our largest donor. We have particularly fond memories of products where we creatively turned a disposal problem into a problem solution. In 2019, we broke even and won the ZEIT WISSEN "Courage for Sustainability" award.
Were there any moments that were particularly challenging and what did you learn from them?
As a non-profit social enterprise, we did not receive any external funding at the beginning, later BonVenture came in. We had to manage organic growth of 25% a year. We have to convince both donors and recipients again and again that our model is new but highly effective. Innovation is good, but it also needs to be communicated and implemented again and again. But the whole team has always been motivated by our huge impact. Conclusion: Know what you are doing and then persevere.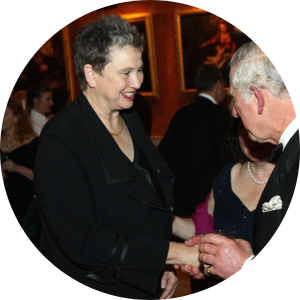 © Paul Burns
"Through my commitment to innatura, I work every day for a systemic solution that brings great social and ecological benefits."
— Dr. Juliane Kronen, Co-founder and CEO of innatura
Where should the journey go in the future and what are the next big goals?
Our aspiration is for cooperation with innatura to become a natural part of good business – for donors and recipients alike. We want to continue to grow strongly, because innatura's growth is, after all, good growth – then even more products that should actually be disposed of will be diverted to the social sector. An important milestone in this regard is the implementation of the coalition's promise to reduce tax obstacles for donations in kind.
What do you wish you had known before launching your project/company? What advice would you give to others along the way?

I would have liked to be warned about the discrepancy between one's own conviction of the business idea and the fact that innovation always requires explanation and "the world has not waited for it". Implementing innovations also always means overcoming obstacles (financing, administrative acts… ). My advice: If you found a company, you start a marathon in which you find fun and fulfilment with your heart and soul. This is especially true for social innovations.
What podcast do you listen to regularly? What book is an absolute must-read for you personally?
OK, America?; "Sicherheitshalber"; currently: Michael Sandel "The Tyranny of Merit"; calassic: Ilias & Odysse
What are your tips for doing good in everyday life? And where do you perhaps find it rather difficult to live sustainably?
Through my commitment to innatura, I work every day for a systemic solution that brings great social and ecological benefits. In my private life, the usual: (e-)bike instead of car, organic or at least regional shopping, wearing long-lasting clothes, reducing packaging. The hardest thing for me is to give up frequent long-distance travel (to the alternative Nobel Prize winners I support through voluntary work in the Right Livelihood Foundation, but also on my own private holidays).
Which organization or start-up impresses you the most and is a true role model for you?

Social business: "Discovering hands", the social business founded by Dr. Frank Hoffmann that trains visually impaired women to become medical-tactile examiners, enabling them to improve breast cancer screening and create their own livelihoods. Similar to innatura, Discovering hands transforms a limitation/problem into a solution through innovation. Foundations: Right Livelihood Award Stiftelsen, Stockholm (Alternative Nobel Prize).

Complete this sentence: The world needs more…

Understanding … that everyone can contribute to change and must take responsibility; … that we can't go on as we are and that everyone sits in the same boat.
Is there anything else you would like to say?
Any non-profit/tax-exempt organisation can register with innatura free of charge and purchase products. The impact innatura has had to date, in numbers: Over 8,000 tonnes of waste have been avoided so far – the equivalent of over 270 articulated lorries. Savings of € 35 million (market price minus brokerage fees) have already been made for the social sector, which can be used to safeguard or expand social work. 2 million people are regularly reached by our beneficiary organisations.
Every month, we interview interesting entrepreneurs and focus on their personal stories. The interviews are intended to inspire, motivate and encourage people to put their own ideas into practice.

Do you know any social entrepreneurs with an inspiring story that we should interview? Then write to us!
Andrea Rebensburg, GOOD Impact Portfolio: andrea@good-search.org
We support innatura in September 2023 with the proceeds of GOOD. Find out more on the project page: