Gexsi is now GOOD. The Search Engine for a better world has a new name.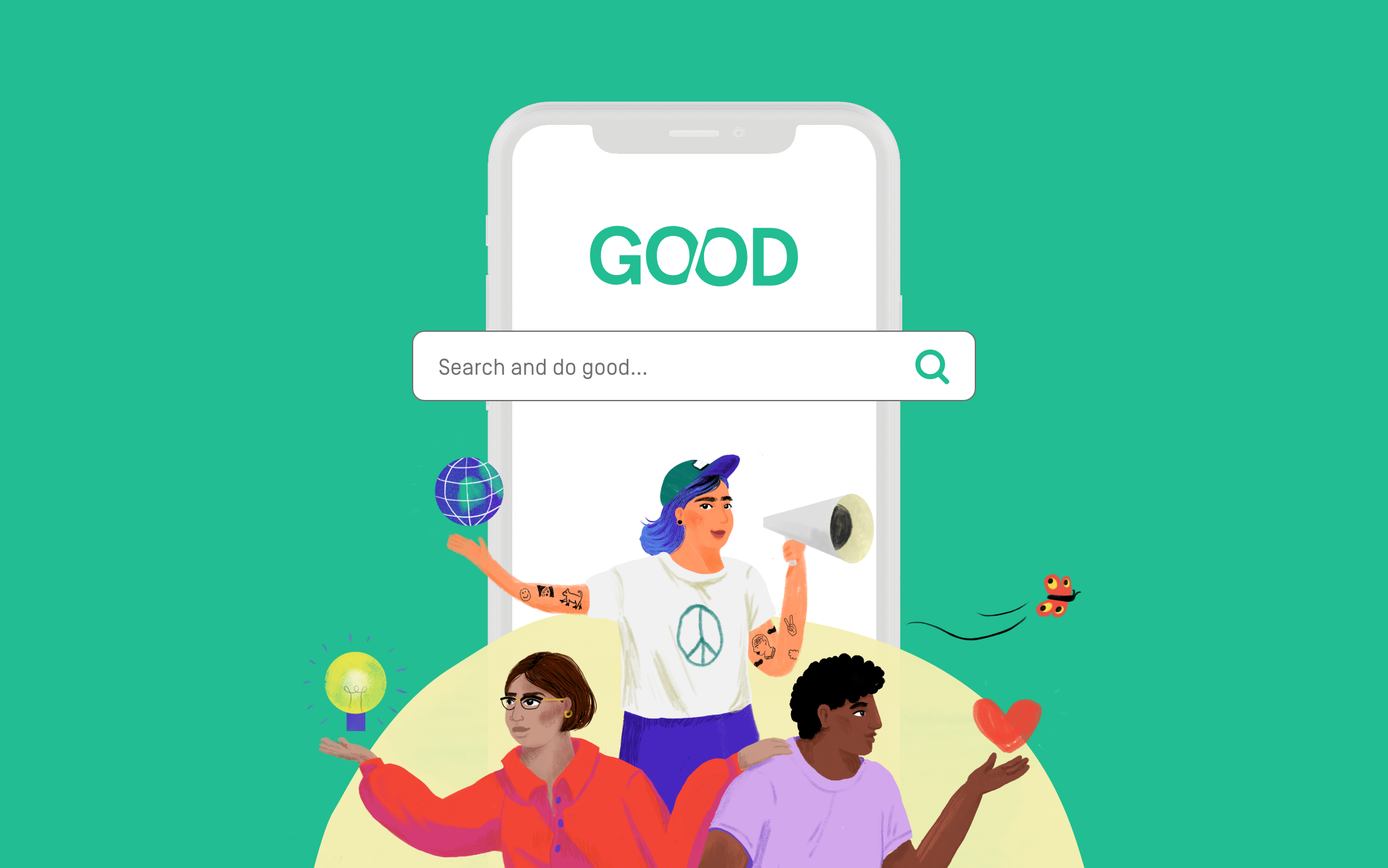 Gexsi is becoming GOOD. Search and do Good – now with a new name, new design and new features! Since the beginning of 2019, we continuously improved our search engine Gexsi. Now it's time for our search engine and team to take the next big steps. Below we'll give you an overview of what's new.
The New Name – GOOD
The new name is clear and memorable. With it we want to show what the search engine and the whole team stands for: We want to do good. The renaming into GOOD is for us the next logical step towards further development.
The New Look
With the new name we changed our logo and look completely. This means a renewed website and mobile app. Due to fresh colours, modern graphics and attractive, more compact content we are making searching with our engine and the time spent on our website more attractive. On our website you can find great features like the impact-tracker. With this tracker you can follow how many queries were made by users and how high the revenues are for the supported projects.
The New Features
We have introduced some new great features for your onlinesearch. From now on we will have extended Wikipedia-Widgets available for you as well as additional filter functions. The Wikipedia-Widgets will give you in a short and compact overview the most important information regarding your search request. The added filters will help to define and narrow your search precisely and therefore receive more targeted search results. Thus, searching with GOOD is even more fun!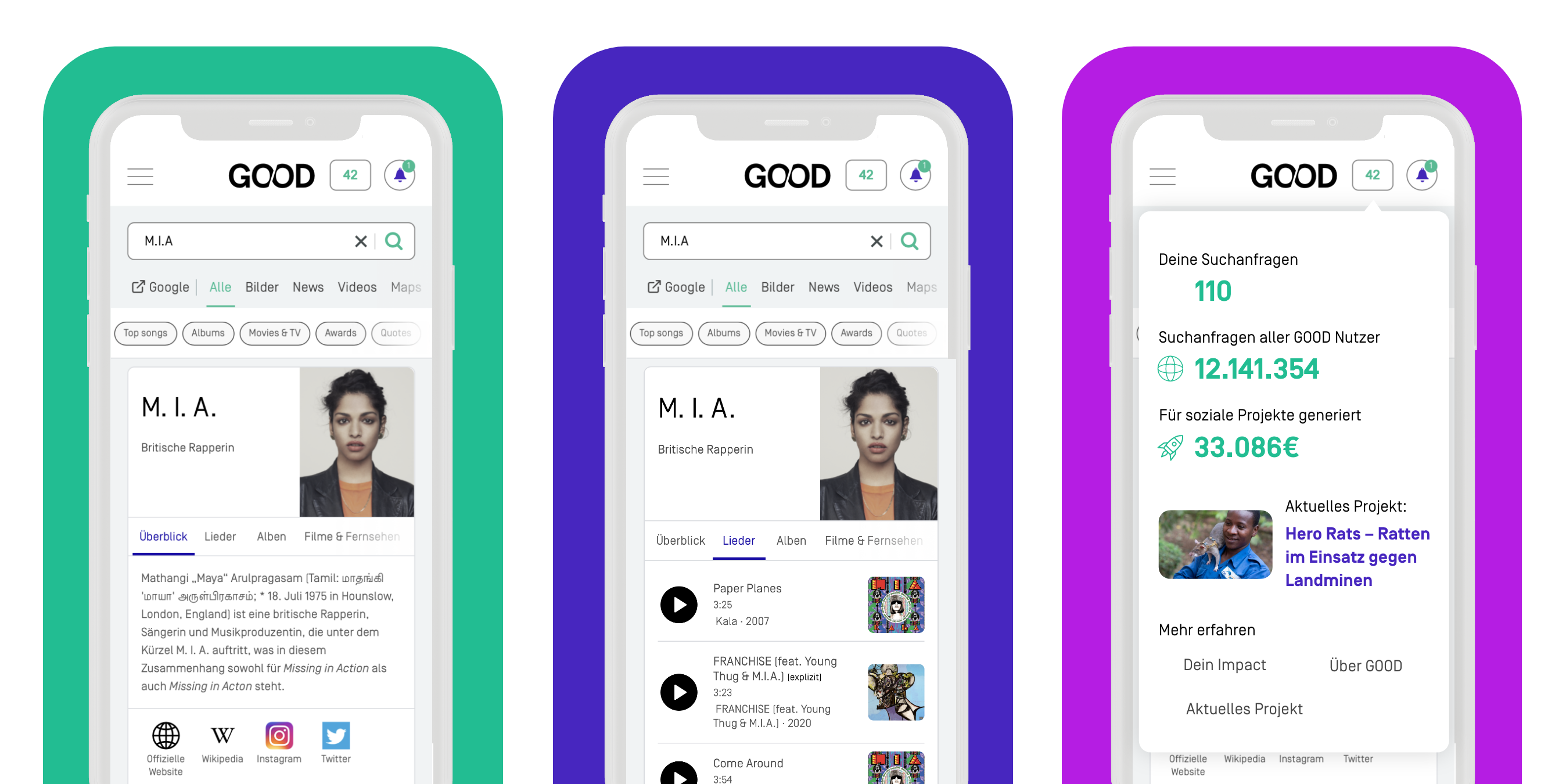 Have you already discovered the enhanced Wikipedia widgets
and our new detailed impact tracker?
Why GOOD?
The renaming of our brand in GOOD gives us great potential for cooperations, growth and greater recognition value. This is exactly what we need to drive positive change in the world. We want to use these new changes to advance our brand and offer tools to create better experiences for users and cooperation partners. Our goal is to offer an attractive alternative to other search engines to as many users as possible. The more users we can address the more we can accomplish together through supporting innovative projects.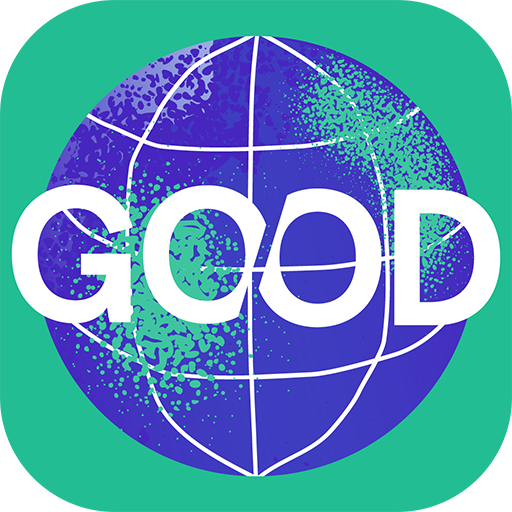 With GOOD you can search and do good

When searching on GOOD, you create a positive impact. You don't even have to change your search behaviour. Every click on an ad generates money for solutions that positively change the world.
The name also clearly shows our ties of friendship to other brands of the Good family. We are planning to expand this friendship in the future through common cooperation and campaigns to create even more impact. However, GOOD will stay 100% independent as the foundation Good Impact holds all shares of the company. This means the company doesn't have the intention to take profits. Currently, all revenues created with the search engine are used to support the selected projects.
«Our vision: A world in which as many people as possible can bring about positive change. Straightforward, no extra costs and accessible for all.» The GOOD Team
What do you need to do?
The search engine modifications and updates will be introduced gradually. Along with a new website we will also update our browser extensions and mobile apps. As a user these updates will happen automatically in the background. This means that you don't have to install any new apps or extensions.
Our cooperation partners will require a few technical modifications. They will receive individual support from us to allow a smooth transition.
What stays?
Of course, not everything will change with the new name. Everything that has proven to work well over the last years will stay the same like our non-profit structure, our great team, the support of projects with innovative solutions and the belief that we can create a better world together. We will remain true to our vision of a world in which as many people as possible can bring about positive change – straightforward, no extra costs and accessible for all. In summary, we will continue supporting innovative projects with all income generated by our users. 
In light of these changes, we are happy to announce true heroes with our first project under the name GOOD: Rats! We will support the project HeroRats by the organisation Apopo in December. The founders of the project train African giant pouched rats to sense landmines. Sounds interesting? Over the next weeks we will share some interesting insights regarding the project! Stay tuned!
Would you like to find out more about the changes due to the rebranding? Here you can find additional information about everything that's new.