New life for destroyed coral reefs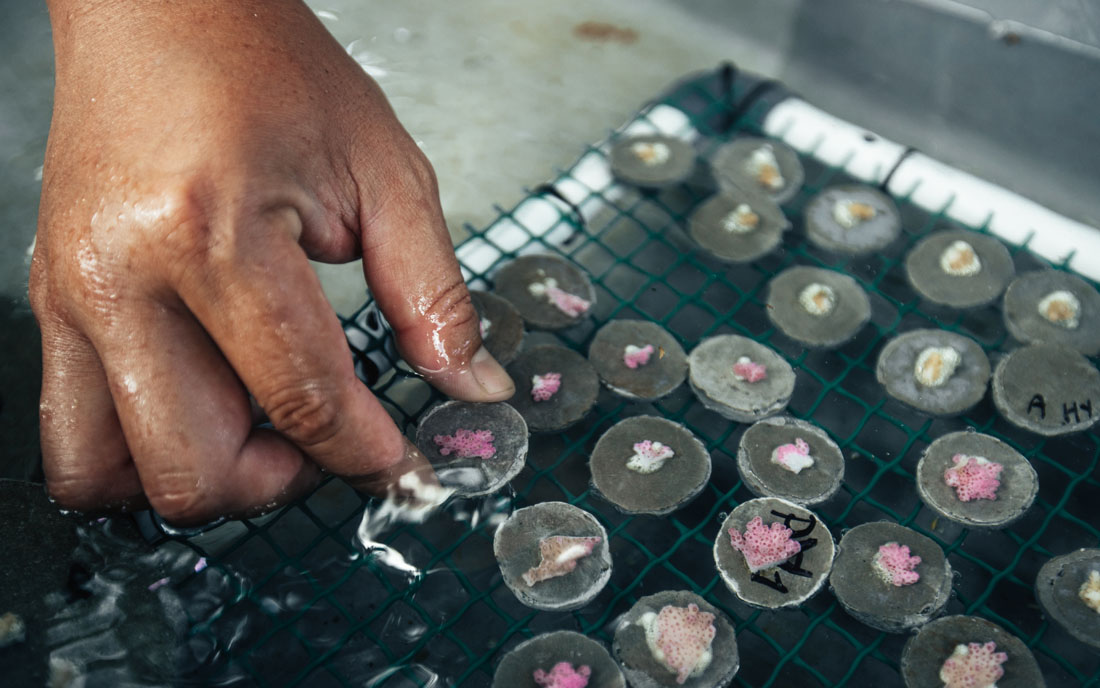 The marine ecosystem with its biodiversity is endangered worldwide. This also affects coral reefs, which are indispensable for animals and humans. From an idea in a circle of friends, Coral Gardeners has now become a global movement to save coral reefs worldwide.
The beauty and biodiversity of the marine ecosystem captivates many people. Nothing compares to the vibrant colors and shapes of the underwater world of coral reefs. Reefs are home to about a quarter of all marine life. But climate change and pollution, as well as changing human lifestyles, are presenting the marine ecosystem with unprecedented challenges. Coral reefs are not spared from this. In particular, rising water temperatures cause so-called coral bleaching, which can lead to the subsequent death of the corals. This has consequences on the population and distribution of the different coral species and finally affects the entire biodiversity and species diversity that originally occurred in reefs. Overall, 30-50 percent of the world's reefs have already died. In the worst case scenario, it is estimated that by the end of the century, reef ecosystems will be completely threatened with extinction. Another problem is the increasing littering of the world's oceans: Plastic gets caught in corals, damages coral poles and can carry dangerous pathogens into the reefs. The overfishing of the oceans is also not without consequences for the corals. Due to the disappearance of more and more species, the marine ecosystem is increasingly out of balance. 
Corals – much more than the foundation of a healthy ocean
As complex as the problems of our oceans are, the protection of the marine ecosystem is essential and requires quick action. After years of debate, a historic milestone has recently been reached: the UN has agreed on a global ocean treaty that will protect one third of the world's oceans in the future. Only together can we succeed in preserving the biodiversity of the world's oceans. This includes the preservation and revitalization of coral reefs, also known as rainforests of the sea. Corals are a living habitat and the livelihood and shelter for a variety of marine life. Reefs are home to about 25 percent of marine life, providing a place for stunning biodiversity and species diversity.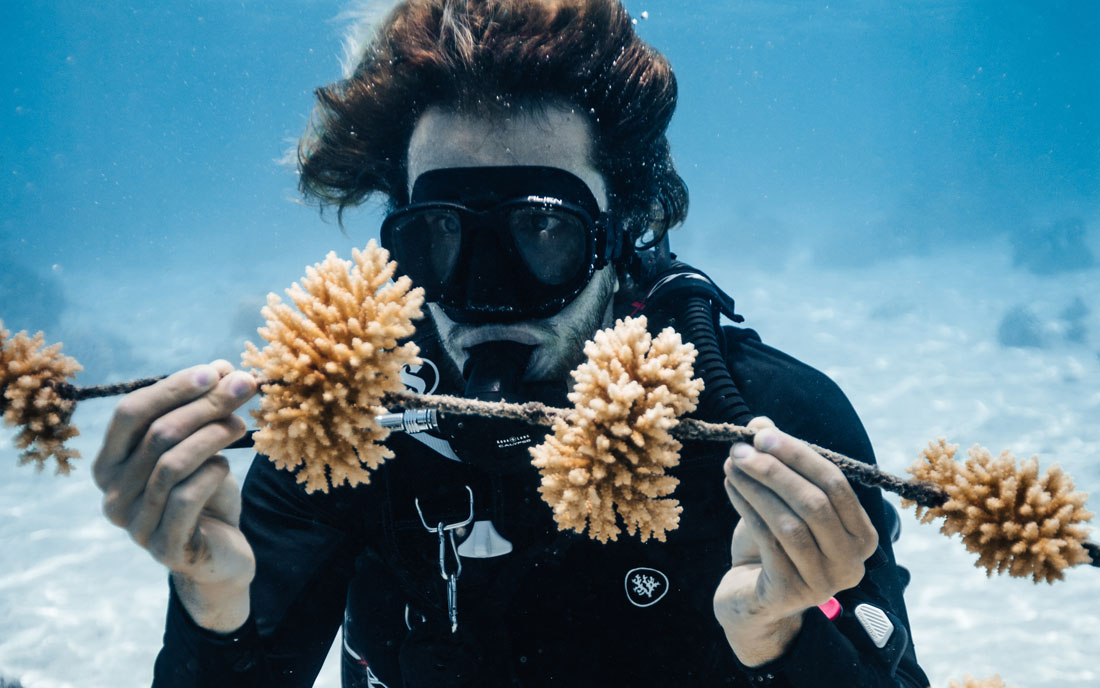 Additionally, due to the wide variety of fish, shellfish, and other marine life, corals are an important food source for residents in coastal regions and island nations. Furthermore, reefs play a crucial role in the protection of coastal regions. Through their structure, they slow down the energy of waves and thus prevent increased erosion of coasts. Coral reefs are also important in various medical researches. Their great biodiversity gives rise to various chemical compounds that serve as models and bases for the development of different medicines and medical technologies.
"Coral reefs are the foundation of a healthy ocean, and marine biodiversity as a whole allows the ocean to produce more than half of the oxygen we breathe." — Titouan Bernicot, Founder of Coral Gardeners
Coral Gardeners – Reviving coral reefs through reforestation
It all started in a circle of friends, who wanted to revive and protect local coral reefs. In 2017, at the age of 18, Titouan Bernicot founded Coral Gardeners on Moorea, the sister island of Tahiti in French Polynesia. They have since grown into an international collective consisting of advocates, scientists, engineers and creatives. And they all share the same goal: to revolutionize ocean conservation and drive a global movement to save coral reefs.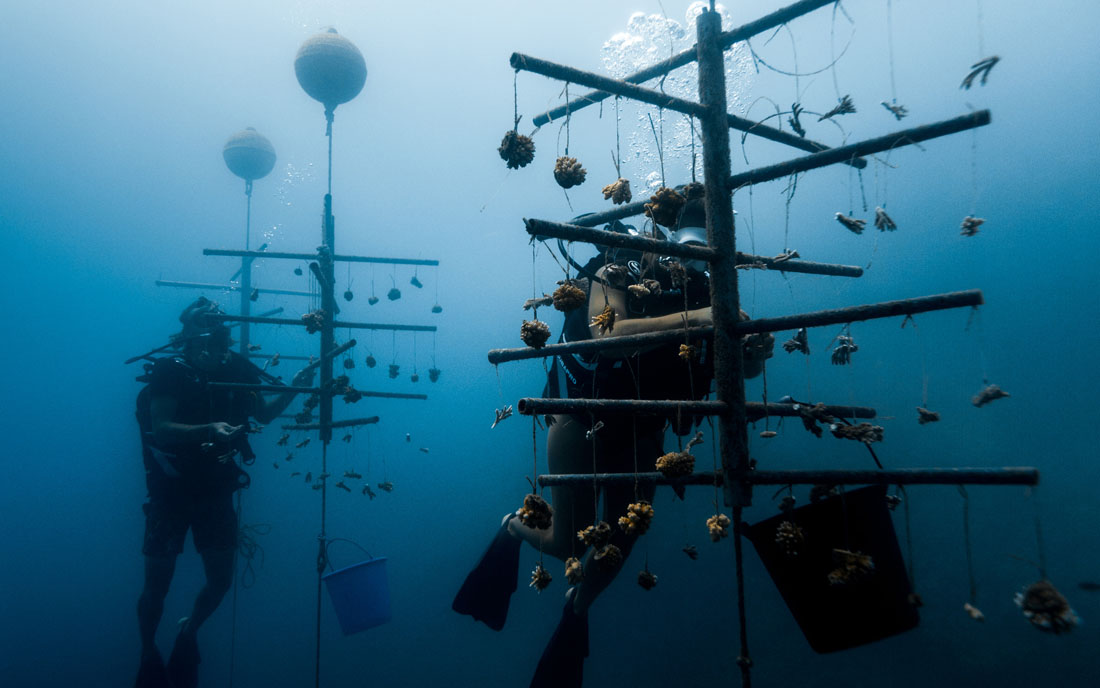 Their work has three main goals, and they've already accomplished a lot:
At the heart of Coral Gardeners' work is

REEF SANITATION

, or the revitalization of coral reefs. To do this, they use state-of-the-art technology and methods to grow and plant hardy corals. The team has already planted 30,980 corals to date.

The team has a strong focus on

INNOVATION

. Coral Gardeners has its own laboratories to develop innovative techniques, methods and tools to closely monitor and analyze changes in the reefs. It is important for them to collaborate and exchange ideas with other scientists.

The third important part of Coral Gardeners' work is

OUTLOOK

. The team uses a strong visual public presence and exciting storytelling to reach as many people as possible. They want to raise people's awareness and inspire action for coral reefs and against climate change. They have already reached over 200 million people through collaborations, on-site workshops and various media.
The young islanders are particularly focusing on participation and cooperation with companies. Through the "We the Reef" initiative, companies can directly support the mission of Coral Gardeners and in particular the ambitious goals by 2025 with a percentage of their profits. Because by 2025, the team from Moorea plans to plant more than 1 million corals and open at least 20 new stations worldwide. They want to reach 1 billion people with their vision and are working in parallel on further measures and tools to scale their plan. The group's goals and visions are ambitious, but entirely achievable through a strong community.
The exact methodology to revive coral reefs is done in three steps. 
First, resistant coral fragments are collected from the reefs.
In the second step, these fragments are attached to ropes, trees or other devices in nurseries to grow here for at least one year.
In the last step, the grown fragments of corals are planted back to the reef.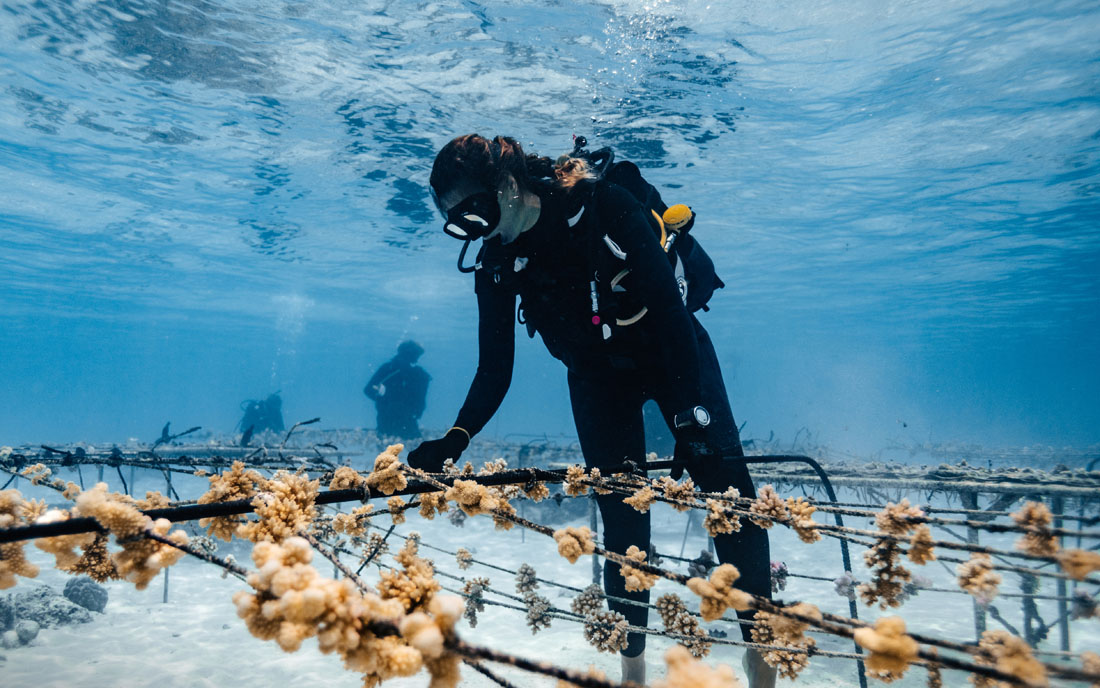 Coral Gardeners

We support Coral Gardeners in March 2023 with the proceeds of GOOD. You can find out more about it on our project page: