How we boost impact start-ups in Nepal with a plastic recycling machine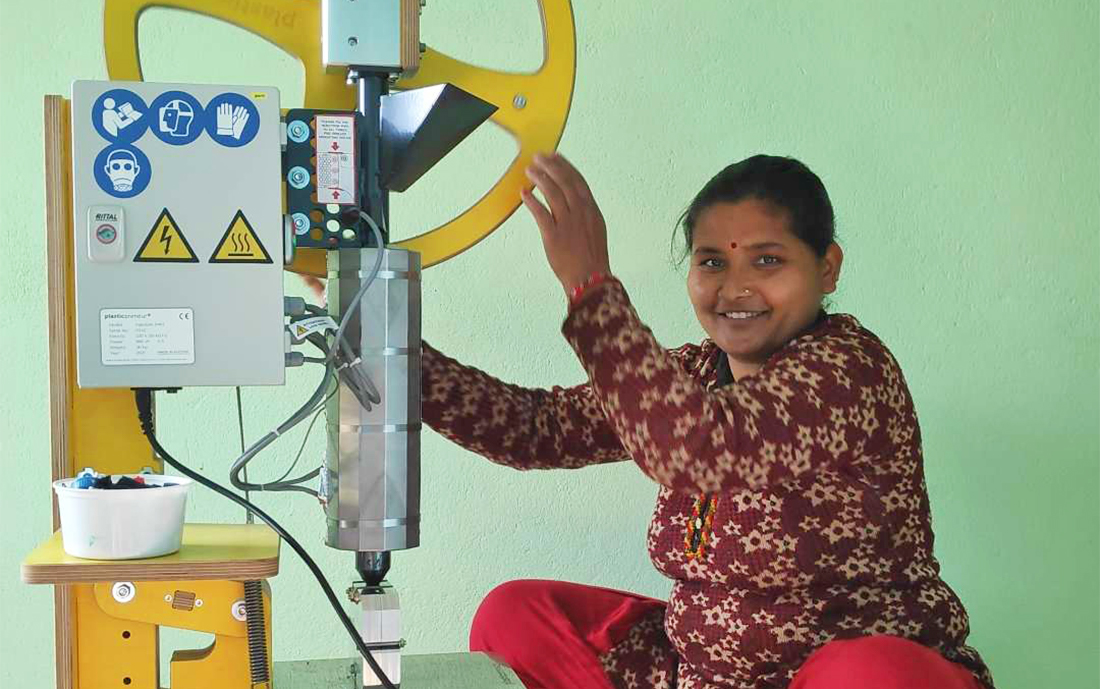 We have supported the Austrian social startup Plasticpreneur by sponsoring a mobile plastic recycling machine. The machine now has arrived in Nepal, where it helps to kickstart a multitude of local recycling ventures across the country – thanks to a strong network of partners.
Last autumn, we supported the start-up Plasticpreneur with part of the revenue from our search engine GOOD. The social start-up offers innovative solutions for recycling or upcycling plastics. Plasticpreneur's mobile machines make it easy to start recycling plastic from anywhere. Is this something special? – Yes! Because until now, the recycling of plastics has been thought of in a similar way to their production, i.e. on a large industrial scale. The idea of developing small, mobile plants professionally and according to European safety and quality standards and producing them for worldwide use is new. The impact is enormous: local initiatives around the world are empowered to produce products from recycled plastic that are adapted to local conditions – and at the same time solve the waste problem.
Plasticpreneur – Empowering plastic upcycling initiatives worldwide
Plasticpreneur is a social business. The start-up operates as a business, but is completely geared towards achieving a positive impact and works together with initiatives from all over the world, such as the Precious Plastic network, which emerged from the maker scene, or, as in Nepal, with the local non-profit Partnership for Sustainable Development (PSD) and its partner Ennovent.
In total, Plasticpreneur's machines are already being used in 55 countries on five continents. This is an incredible number considering that the company was only founded in 2020.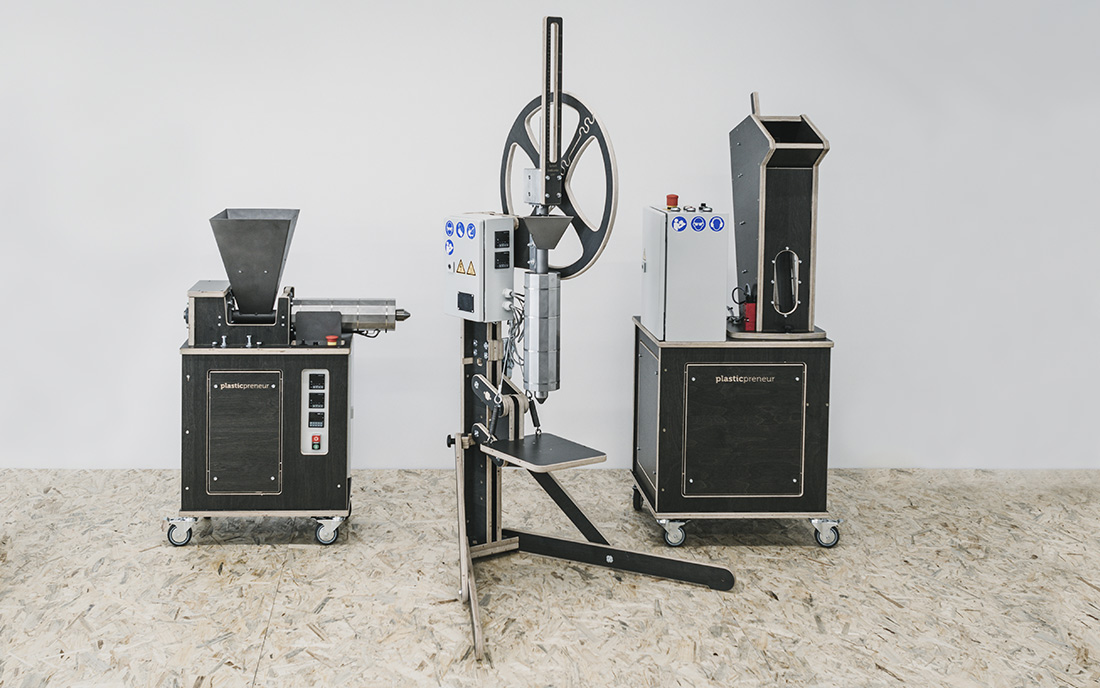 Upcycling plastic waste in the Himalayan mountains
We supported Plasticpreneur by covering a proportion of the costs of a mobile plastic recycling plant, in our case: funding a mobile shredder worth 1,500 euros. Together with a mobile injection moulding machine and a set of moulds, the equipment empowers local plastic entrepreneurs to process plastic waste into new products directly on-site. In our case, two identical sets of machines were delivered to Nepal. This allows to test the feasibility of decentralized recycling schemes both in the urban environment in the capital Kathmandu and in remote mountain regions.
«With this venture, in the longer run, we aim to set up Plasticpreneur machines in all seven national parks of Nepal. Once we validate proof of market, this venture can help generate sustainable income opportunities and create a positive environmental impact for local communities» Gabish Joshi, Country Director, Ennovent Nepal
Luckily, the partner organisation PSD Nepal (Partnership for Sustainable Development) already is managing an ongoing plastic waste management project in Langtang National Park. The park attracts about 18,000 annual visitors, contributing to a large amount of plastic waste from water bottles and soft drink bottles. Since 2017, their project encourages trekking and tourism in the region whilst limiting the environmental damage by clearing and recycling 40,000 PET bottles a month. .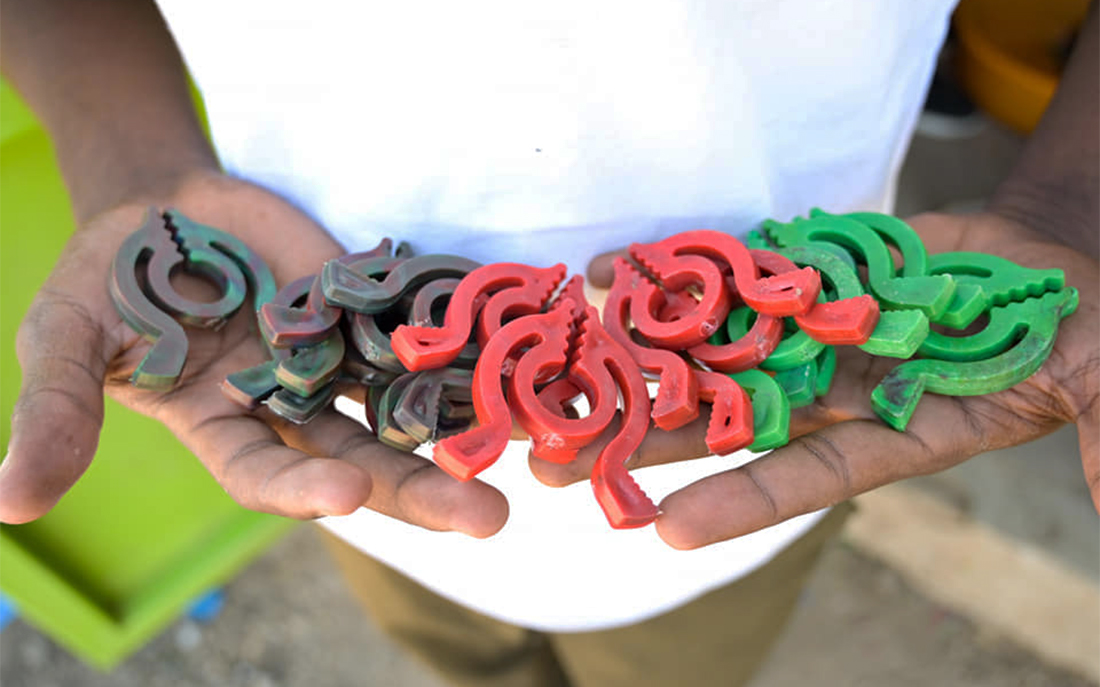 The machines now have been delivered. The next task is to develop an initial product portfolio that can be produced with the collected plastic waste and which can be marketed locally. Moreover: If the scheme proves to be financially viable, it can be replicated other national parks or other regions in the country.
In Langtang, a first batch of recycled products have been created using the lids of PET bottles made of HDPE material. The products developed in Langtang include plastic beads, tortoise keyrings, and tea coasters, which can be sold especially to tourists

.

In Kathmandu, buttons, carabiners, and clothes pegs have been produced in a first pilot. In parallel, discussions are being held with businesses that can source products from PSD

Plastics. "We are talking to businesses to understand how well we can match their current products (made from virgin plastic), both in terms of quality and cost", says Gabish,

Country Director of Ennovent Nepal

.
While in Langtang, the plastic sourcing value chain has already been established, in Kathmandu, the team continues to work on sourcing clean, good quality recyclable plastic. This is still a challenge so far.
Entrepreneurship for a better world
The Plasticpreneur project shows nicely how a challenge (waste problem) can be turned into an entrepreneurial opportunity. However, the success did not come about all by itself. Typically, it need a whole ecosystem to secure a favorable environment. 
A crucial role played Ennovent, an experienced venture catalyst from Vienna that has been active in Southeast Asia for many years. Ennovent is the link between the machine supplier Plasticpreneur and the local non-profit PSD Ennovent helps to establish local impact businesses that use entrepreneurial means to develop solutions to the 17 UN Sustainable Development Goals. The idea: development aid with entrepreneurial spirit as one of the most sustainable forms of help for self-help.
While PSD has the expertise to anchor projects locally, build networks and train people, the development of self-sustaining business models, the necessary market analysis and the establishment of B2B partnerships (e.g. for the sale of products) are less part of their core expertise.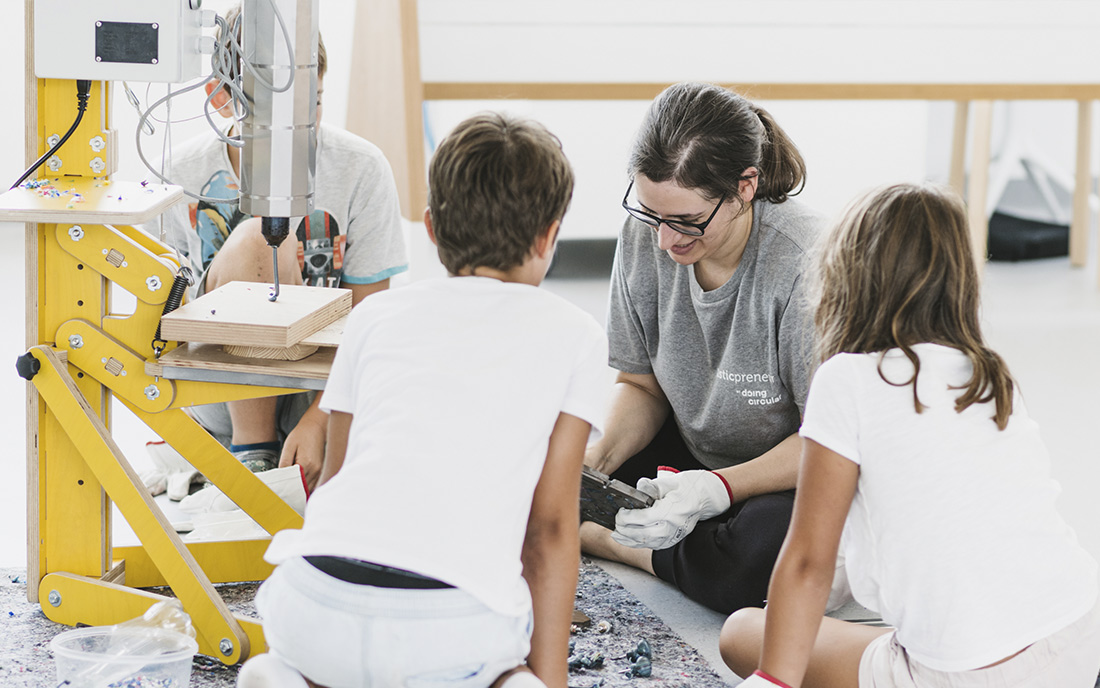 Unlike many others, Ennovent is more than a consulting firm. The organization engages at own risk, as an impact angel. Together with PSD, Ennovent founded the joint venture PSD Plastics, which acts as an umbrella for the many recycling initiatives to be developed throughout the country. 
With the combined expertise of Ennovent and PSD, PSD Plastics is developing a social franchise system that enables people across Nepal to start local recycling initiatives as "plastic entrepreneurs" with a financially self-sustaining business model – professionally accompanied by PSD Plastics.
In this way, the Austrian company Plasticpreneur, itself a social start-up, is a catalyst for other social enterprises like PSD Plastics, which in turn enables people throughout Nepal to launch their own businesses as plastic entrepreneurs – leveraging its impact over and over.

Ennovent is a venture catalyst that brings innovative business ideas to untapped low-income markets in developing countries. The organisation offers entrepreneurs, companies, funders and non-governmental organisations tailor-made entrepreneurial projects that provide access to start-up expertise, local partners, multiple funding opportunities and global networks. Through fair partnerships, Ennovent shares the risks and rewards of optimising sustainable impact and profits in low-income markets. Since 2008, Ennovent has supported over 240 ventures in 35 countries through 70 projects.