Fair Fashion, Fair Chances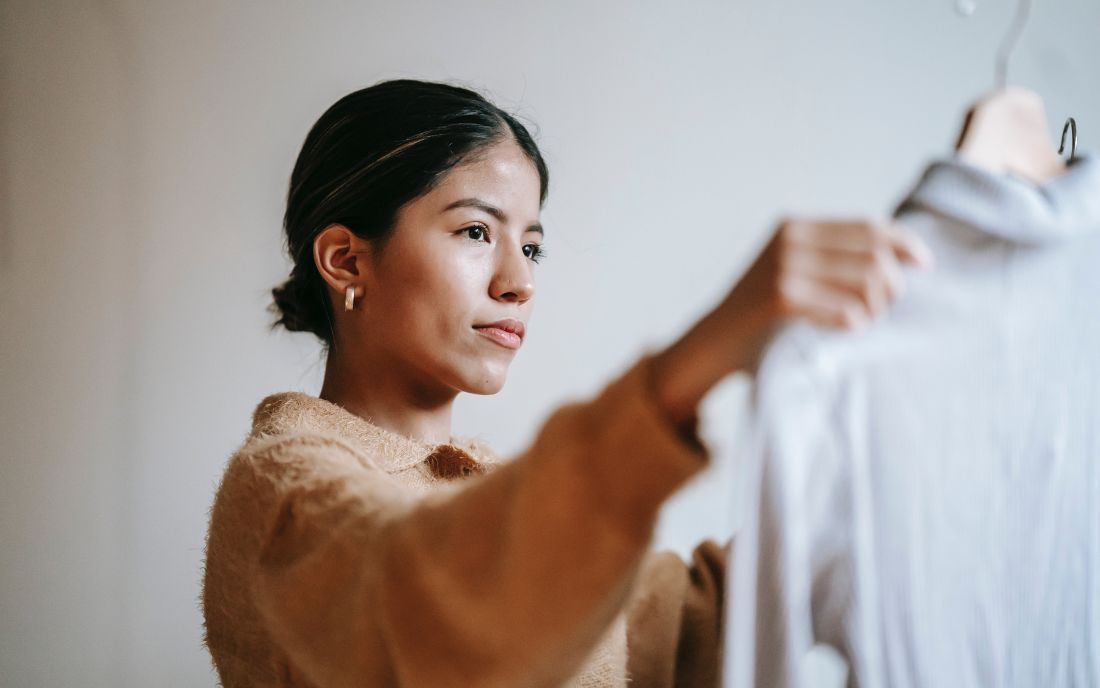 Sustainability and socially critical factors are becoming increasingly important in the textile industry. There are numerous fashion labels and brands that are specifically committed to education and empowerment, especially of women.
The Chaiim Foundation rescues women and girls from forced prostitution and the dangers of human trafficking and helps them find their way back into society. Part of the initiative is to ensure that the young women receive schooling and vocational training so that they can live independent and self-determined lives. The initiative addresses what is often the undoing of many women and girls: a lack of education. A lack of schooling or vocational training and poor future prospects as well as oppression due to gender-specific role models are often reasons for an increased risk of falling into the clutches of human trafficking and forced prostitution.
With regard to the topic of fashion and the textile industry, we want to take a closer look at the problems, but above all at the solution approaches within the fashion industry. There is a lot happening in this branch of industry. Sustainability and socially critical factors are becoming more and more important. There are numerous fashion labels and brands that are specifically committed to education and empowerment, especially of women.
Slow Fashion or Ethical Fashion pays attention not only to ecologically sustainable factors in the production of garments, but above all to socially critical and ethical aspects. Fair wages and humane working conditions are the focus.
What are the challenges?
UNESCO estimates that a total of 118.5 million girls and 125.5 million boys are not in school worldwide. Especially in countries where there is conflict, the likelihood is twice as high. In particular, the gender balance remains severely imbalanced. In primary education, about 49% of countries have a balanced ratio; in secondary education, only 24% of countries still do. This imbalance usually affects girls and young women.
The reasons for lack of schooling vary from country to country, but are often due to poverty, child marriage, geographic isolation, gender-based violence, or school infrastructure (such as lack of security, hygiene, and sanitation needs for girls). In addition, learning practices are not necessarily gendered, resulting in a gender gap in learning and skill development. The COVID-19 pandemic has also left its mark, particularly on the well-being of girls. This results in an increased risk of children being exposed to domestic violence and not returning to school. 
Finally, the consequences of a lack of educational opportunities are also evident in the fashion industry, among others. Here, the social drawbacks of inequality become very clear. A large proportion of clothing is produced in low-wage countries. The aim is to produce the constantly changing collections as quickly and cheaply as possible in order to be able to sell them at dumping prices. In this case, one also speaks of so-called "fast fashion". As a result, working conditions in the factories of low-wage countries are often poor and inhumane. This affects particularly many women, but also children. They often have no other choice, because on the one hand they have to provide for their families and on the other hand they have no better alternatives due to a lack of education.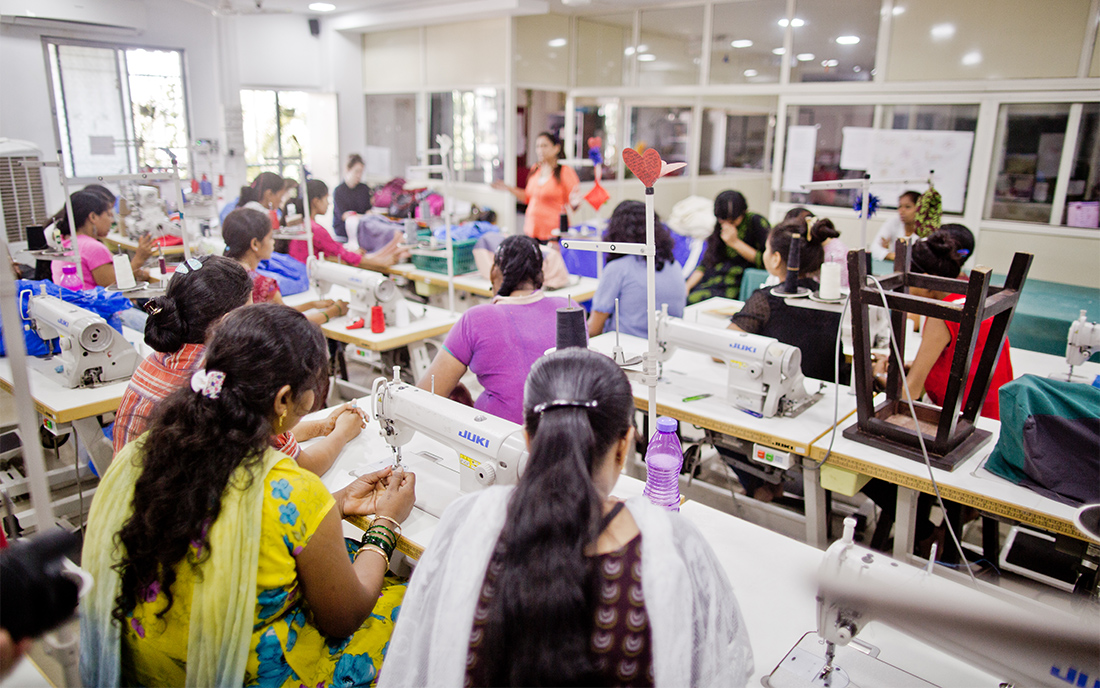 Fashion labels go new ways to create educational opportunities
Understanding the potential of equal educational opportunities, some industries are actively seeking to participate in improving equity and advancing education. In the fashion industry, for example, there is a growing movement to draw attention to grievances and to strengthen equal opportunities, especially through the education and promotion of women. The term "Slow Fashion" is a movement to which more and more brands and labels are committing themselves. Slow Fashion or Ethical Fashion pays attention in the production of garments not only to ecologically sustainable factors, but above all to socially critical and ethical aspects. The focus is on fair wages and humane working conditions. Here we introduce you to some labels, brands and initiatives that are actively working in different ways to create more equal educational opportunities. Through individual approaches, they address the challenges in the textile industry and focus primarily on the advancement of girls and women.
FAIR WEAR FOUNDATION
The Fair Wear Foundation (FWF) is a non-profit organization that specifically aims to improve working conditions in the textile industry. To achieve this, the foundation works closely with member companies, trade unions, NGOs, governments and factories. There are currently over 80 member companies representing more than 130 brands and selling their products in 80 countries worldwide. FWF regularly reviews, evaluates and publicly reports on the progress of individual members. To do this, the conditions in the production facilities are checked on site, interviews are conducted with the workers, possible complaints are recorded and the business practices of the companies are examined more closely.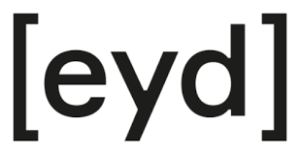 EYD
EYD is a fashion label that markets and distributes the manufactured garments of the organization Chaiim. It is not just a sustainable fashion label, the team has above all a social mission. They give women with a traumatic past a job in a loving environment. It is important to the label to promote and empower women, creating a new perspective for their own self-determined lives. Its mission is to give visibility to disadvantaged women. In each clothing, there is an individual imprint stamp of the woman who worked on the garment. The label carries its own message somewhat hidden in its very name: EYD – pronounced like "Aid" stands for help – and is short for "Empower your Dressmaker."

Jyoti Fair Works
Jyoti Fair Works is a German-Indian fashion label. The focus is on the socially and ecologically sustainable production of clothes. Meanwhile, there are three sewing workshops in India, where more than 20 women are employed. In addition to fair remuneration, the women also receive good health care, training as seamstresses and various opportunities for further training. The label works closely with local NGOs such as Jyothi Seva Kendra, Nava Chetana Kendra and the Access Foundation.
Abury
The fashion brand Abury works according to the motto: "Style, quality and morals are not mutually exclusive. Rather, the magic is in the combination."The first collection in 2011 was inspired by the craftsmanship of traditional bags in Morocco. From the beginning, ABURY operated as a social business, reinvesting 50% of all profits in social projects through the ABURY Foundation. However, the brand is aware that fair wages alone are not enough. That's why for every product sold, they give back education time to ABURY communities equally to the time that was needed for the production of an item.

Parker Clay
Parker Clay is a label that makes traditional leather bags and backpacks in Ethiopia. The idea is to bring beautiful products to the world, creating jobs to support women while bringing traditional, sustainable and ethical craftsmanship to the forefront. The B-Corp certified company gives jobs to vulnerable women, pays living wages as well as benefits, and provides training, career advancement opportunities and financial training. To do this, the label works closely with the Ellilta Women at Risk (EWAR) organization, which aims to help women who have been exploited in prostitution regain their independence.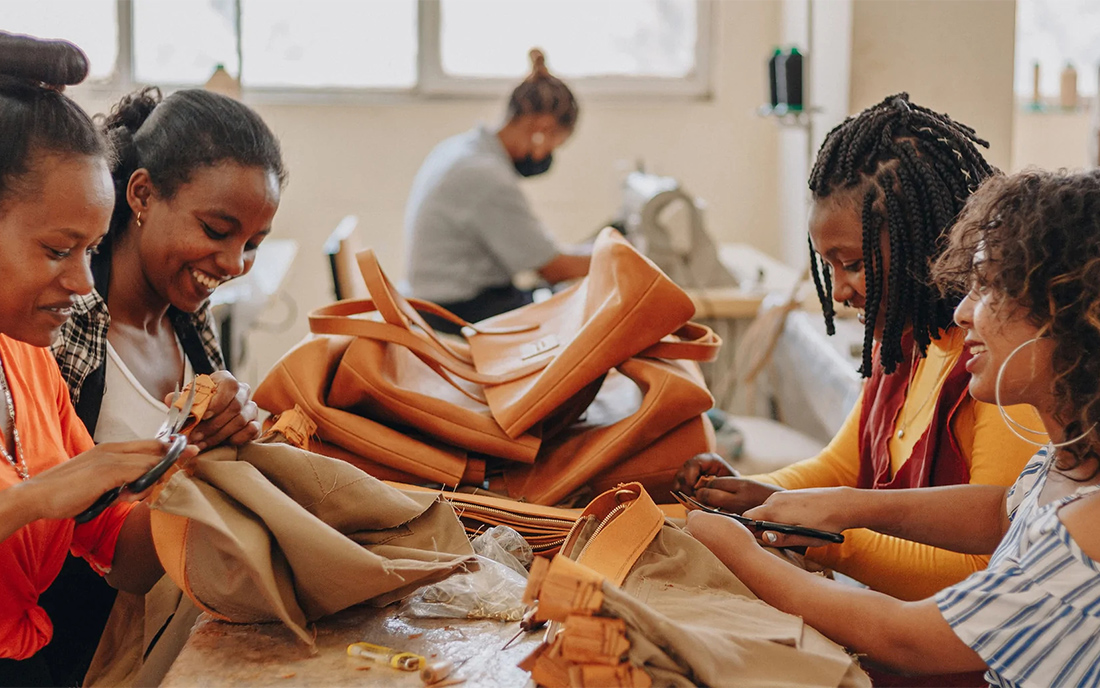 Purpose Jewelry
As the name suggests, Purpose Jewelry is a jewelry brand. The brand has programs in the cities of Mumbai, Cebu, Kampala and Tijuana, also supporting women and girls who have escaped human trafficking. Their goal is for the women to achieve economic independence. The four main components of Purpose Jewelry are: Income, Education, Health Care and Community.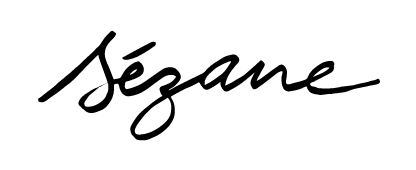 Sézane
Sézane is a French fashion brand dedicated to fashion that can be worn long term. Through quality textiles and timeless cuts, they promise garments that can be worn forever. The brand is a B Corp certified company and places special emphasis on resource-saving manufacturing processes, sustainable materials and fair working conditions to leave as small an environmental footprint as possible. The brand is committed to supporting organizations and initiatives through attention-grabbing campaigns. In 2010, for example, all proceeds from sales of their "La Femme" T-shirt went to UN Women, and sales of the latest "Demain" T-shirt support children's education projects. 

Naja 
The American brand Naja specializes in the production of lingerie made from recycled materials. But that's not all, the label also focuses on the empowerment of women, in particular by employing single mothers and women, allowing them flexible working hours, offering above-market wages and good medical care. In addition, Naja provides educational scholarships to the women's children and provides textbooks, school uniforms, school meals and other materials. 

Nectar Nectar
Nectar Nectar promotes women's economic independence through handmade jewelry. The label is a women-owned business based in New York with branches in India. Nectar Nectar provides direct support on the ground through their own Nectar Foundation, Nectar Town and many other initiatives. They aim to transform the lives of individual women and entire communities by teaching skills in entrepreneurship workshops, jewelry making and training within communities. Among other initiatives, the label sponsors a village in India and assists in the comprehensive development of that village through initiatives such as building cow shelters, water ponds to provide clean drinking water, providing training for women and educating their children. Another interesting initiative supported by Nectar Nectar is the Swaraj Jail University. The goal is to help inmates at the Udaipur-Rajasthan jail explore their passions, gain practical skills, and reignite their self-esteem, leadership skills, and vision for life. Female inmates are trained and employed to earn money and support their families during their incarceration.

Asante Sanaa
The social start-up Asante Sanaa has a slightly different focus. They not only sell paintings by East African artists in Europe, but also apply the artwork to clothing with their fashion brand. The income of the artists can be diversified in this way and at the same time the student team of Asante Sanaa makes a contribution to sustainable, fair fashion consumption. The concept is about empowering artists and securing their livelihood, but also about building an intercultural exchange and a bridge between Africa and Europe. By the way, Asante Sanaa is Kiswahili and means "thank you art" and if you write "asante sana" it means "thank you very much".
Why is the education of women and girls essential?
Education is a universal human right and access to quality education should be ensured for both girls and boys. Better school education contributes to greater equality of opportunity for women. It gives women the possibility to actively participate in the labor market, to earn their own income and thus ultimately to provide financial security for their families, to experience greater participation and integration in society and to lead a self-determined life. They often live and eat healthier, have the opportunity for better health care and are thus also able to offer their children a healthier life. However, these individual factors alone are not the only ones that are crucial to providing greater support for girls' and women's education. It has been shown that by promoting girls in particular, rates of child marriage, infant mortality and maternal mortality fall dramatically. A country's economy is strengthened overall, contributing to a more stable society where everyone has an equal opportunity to reach their potential and harmful gender norms can be overcome.

Tip Me
The Tip Me project offers another exciting approach. The platform works together with various brands and labels. With the Tip Me partners, customers have the opportunity to add a tip to their purchase. 100% of which goes to the workers. Every single person involved in the production process is registered and the tip is divided among all of them. On the Tip Me site you can meet the "makers". Many of them use their tips for their children's education, school fees and materials. The following labels and fashion brands participate: Ethnothek, SNOCKS, erlich textil, Dawn denim, ethletic, kipepeo clothing, etiko, yes friends and my sleepig gypsy.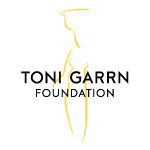 Toni Garrn Foundation
And it's not just labels and fashion brands that are campaigning for greater social and ecological sustainability. Public figures are also joining the Slow Fashion movement, raising awareness of the issues and the importance of equal education and training. For example, German top model Toni Garrn set up her own foundation in 2016 and is working to ensure that young girls have access to education by supporting initiatives in Africa. To attract attention and generate donations, there are always various fundraising campaigns, such as a supermodel flea market, which has been held in various cities since 2015.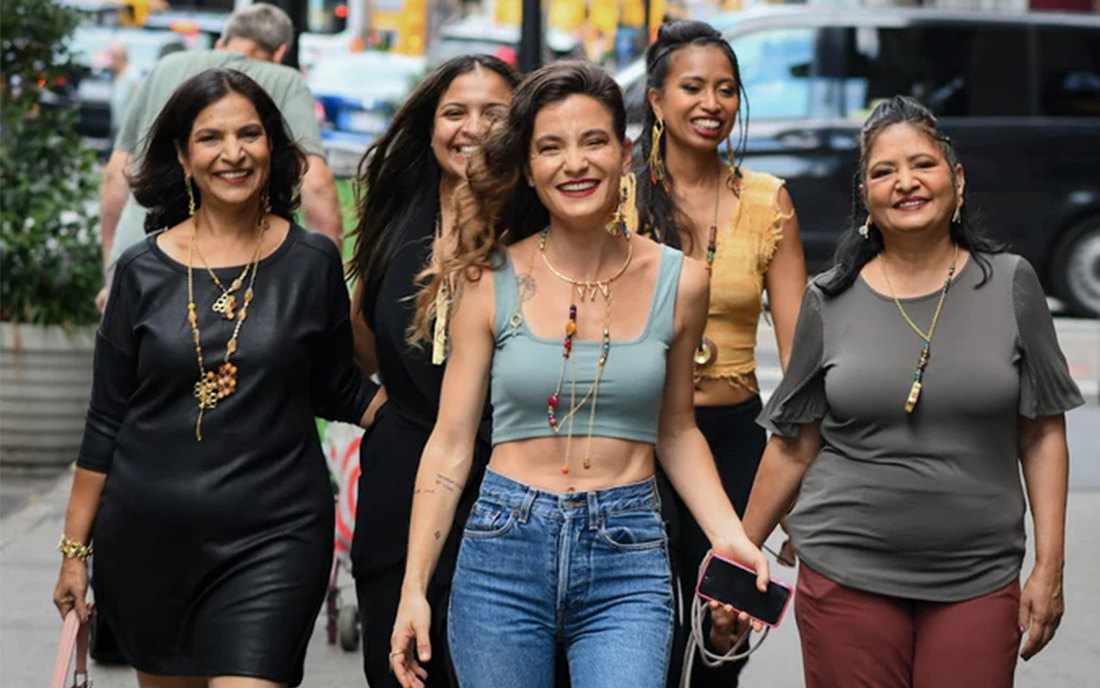 It is of great importance that we critically examine the global conditions for education and deficits in education systems. Our daily consumption can make an effective contribution here. By consciously making sustainable consumption decisions, for example when buying clothing, we can not only support ecological and environmentally friendly measures, but also fairer working conditions and actively promote educational initiatives or projects in many ways. 
However, the projects are often about much more than just access to schools for girls. Crucial to positive development is an education system that empowers boys and girls equally and helps develop important competencies and skills (such as communication, negotiation, self-management, assertiveness, strategy, etc.). It is crucial that education is free of negative gender norms in order to reduce gender bias and thus provide equal opportunities. Boys and girls need a place where they can feel safe to be free from violence and oppression. At every level of education children, regardless of gender, should be supported in the path and careers they choose – including those in which they may be generally underrepresented.
We support Chaiim in January 2023 with the proceeds of GOOD. You can find out more about it on our project page: