6 things Gexsi does better than Google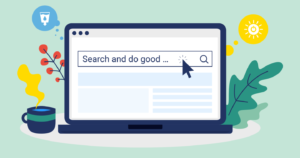 Gexsi is a search engine like Google. The difference: Gexsi is non-profit and supports projects that positively change the world with its revenues. What motivated Andreas Renner, Kevin Fuchs and David Diallo to found Gexsi, and what makes the search engine unique, you can learn directly from the founders
Every one of us searches for something on the Internet almost every day, statistically about 100 times a month. Mostly with a smartphone. And almost always with Google. Google's market share in mobile searches in Germany is 98%, and somewhat lower on desktop computers. Is that bad? That depends on how you look at it. We see that there is enormous potential here to develop an attractive alternative via a social business model. The startup Ecosia has shown how this can be done; the company generates between half a million and a million euros every month for planting trees via its search. Search engines are an amazingly profitable business. Google earned $400 million from its search engine last year. In a year? No, on a daily basis!
So it's no surprise that the market for alternative search engines has skyrocketed in recent years. In addition to Ecosia and our new search Gexsi – the search engine for a better world -, there are several others, most of which address a regionally limited target group, such as Lilo.
We didn't found Gexsi simply as a blueprint that imitates others. We want to make many things different, better, more effective, or even more attractive.
1. Gexsi has a bit of Robin Hood in it
Whether Robin Hood is a role model may be controversial. What inspires us positively is the fact that it is possible to redirect a part of the gigantic flow of money for a good cause by means of an own internet search. And this quite legally. Simply by convincing more and more people to switch search engines. Every few weeks, we use our earnings to support a new, exciting social project. All our company shares are in a foundation, so 100% of the money stays in a charitable cycle. Another special feature is: we always support projects regionally, close to our users. For us, it feels right to repeatedly support projects where it was generated (via the search queries of our users). At Google, these are two separate worlds.
2. We want to give the 17 SDGs even more momentum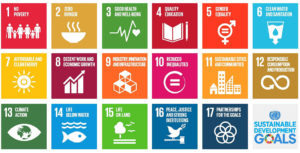 We are concerned about many issues: Educational opportunities for all, climate protection, sustainable urban development, the energy and food revolution, oceans without plastic waste, a stable healthcare system and basic services for all the people of the world, the protection of biodiversity, equal rights and much more. We believe that quite a lot of people around the world have a similar view of things, see the same issues and urgencies. With our focus on the 17 UN Sustainable Development Goals (SDGs), we cover the full range of solutions to make the world more humane and sustainable. They provide us with a clear frame of reference. This is also what our claim "The search engine for a better world" refers to. And honestly: there is no easier way to send a signal that you see yourself as part of this global movement than to switch search engines. One-click and you support the 17 goals every day anew.
«Search the web and fund SDG projects in the process? Ingenious! Change begins in everyday life.» Rebecca Freitag, Ambassador for the rights of future generations
3. It's always about striking the right balance, even on the internet 
When we come to talk about Google, we are torn. Google is enabling tremendous progress in many ways. Google has enabled quantum leaps in the processing of data, not only in search but also in less visible areas such as medical research. But the threat of the glass person is growing. With Gexsi, we're giving people back some authority over their data use. Everyone can control whether he or she wants to throttle the amount of data Google controls by using Gexsi. Our search runs on Bing's technology. The logic is simple: the more actively you use Gexsi, the fewer data points you leave with Google. We have deliberately integrated Google Navigation into our search. This way, everyone can access the Google search results directly without having to re-enter the search term. You decide for yourself how intensively you want to use the Google search. There is no right or wrong.
4. We look for solutions off the beaten track, let the young generation take the lead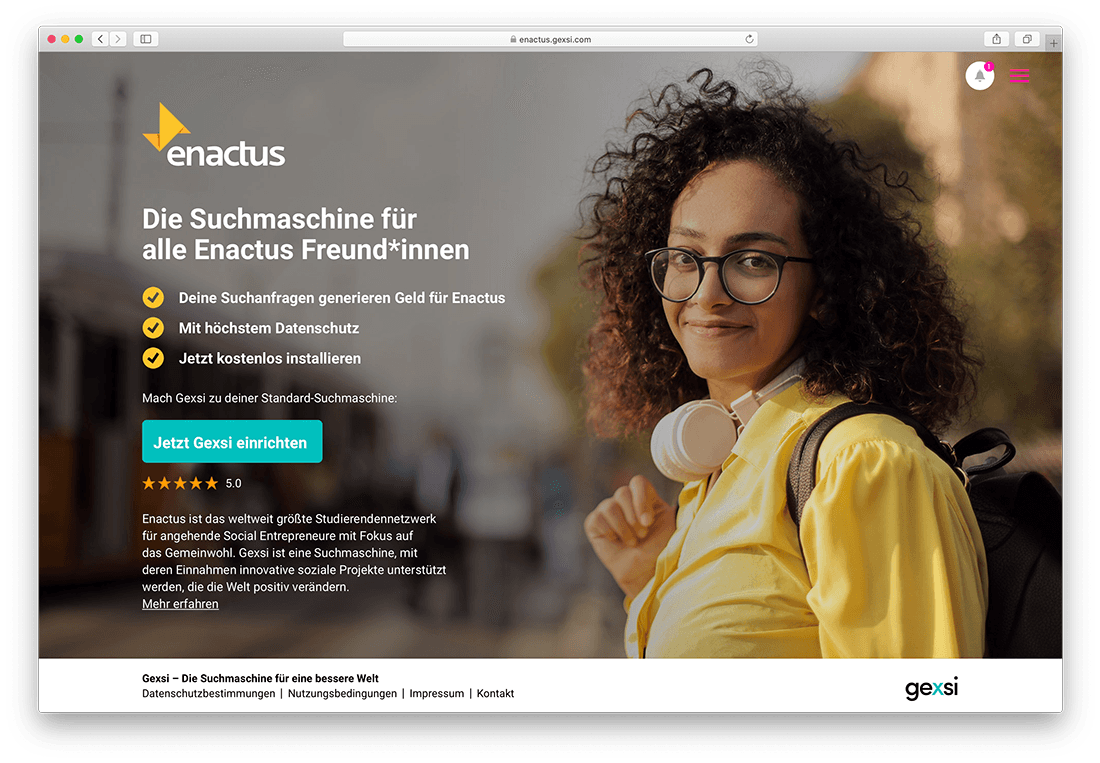 At Gexsi, we all come from the impact sector and are constantly meeting people and initiatives that simply get going and try out solutions for urgent social problems – freely according to the motto: We'll go ahead. The positive energy we find here carries us away. We want to share it. And we want to support social innovators and young teams that develop new solutions outside the beaten path – especially those that don't yet have a broad circle of supporters. Many are even developing solutions that will eventually pay for themselves financially; that excites us.
5. Storytelling is a crucial element of our search engine
What could be better in the world than to be inspired again and again? We want to share our excitement about new initiatives and solutions with as many as possible to inspire people to get involved themselves. At Gexsi, in recent months we had supported, among others, a non-profit that helps disadvantaged communities get their rights, for example when their land rights are ignored due to corruption, a smartphone app that moves the "worry phone" into the digital age and helps young people in crisis situations via chatbot to find the right contact point – whether heartbreak, stress at school or with parents, and much more. With Forest Gum (without "p") we had supported a crowdfunding campaign for plastic-free chewing gum, where the chewing mass is made from natural raw materials – instead of the usual but little known: based on petroleum. Via the daily quest with Gexsi, everyone knows that he or she has contributed a small part. That feels good!
6. Look, who profits from you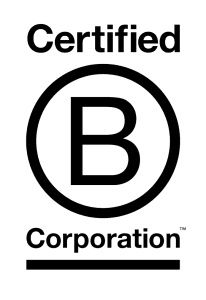 We also founded Gexsi because we believe that it is not enough if a good product is offered but the company as a whole is not ethically positioned. It is certainly worthwhile to look at the interests behind a search engine – especially if it positions itself as a social or privacy-friendly search and thus makes an ethical claim. This is where we differ substantially from others. For example, when the privacy-minded search engine Startpage argues that because of its privacy policy it can't say anything about who is behind the company, that's absurd logic. As a user, I want to know whether my search is funding the Russian mafia or a good cause – or something in between. In terms of transparency and governance, we are at the forefront. At Gexsi, we have transferred all of our company shares to the non-profit Good Impact Foundation. It's a shame that, with the exception of Ecosia, none of the other social search engines we know of have followed suit and so far have not taken the first step and joined one of the ethical business networks like Certified B Corps or Gemeinwohlökonomie. We hope that our example will encourage imitation!
We see ourselves as a learning organization that continues to evolve and look at how we can increase our reach and impact without a huge advertising budget. To grow, we need you! Tell friends about Gexsi, use the search privately or at work, be it via our smartphone app or as a standard search via our desktop extension. Together we can change the world positively, bit by bit!
This post was published on 01 July 2020 and we have now updated it with new information.
You have any thoughts, questions, or ideas? Write to us!
Dr. Andreas Renner, Co-Founder Gexsi: andreas@good-search.org
Become part of a community, which positively changes the world!
Set a sign and make Gexsi your search engine! It takes less than 60 seconds to download the app or the desktop extension.

Gexsi – the search engine for a better world
Your search generates money for projects which make the world a better place.